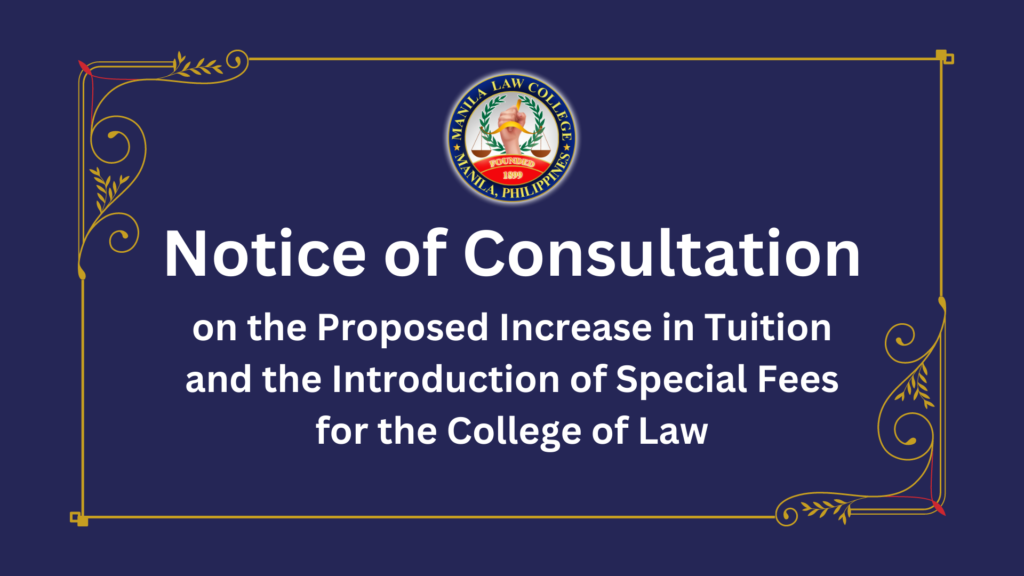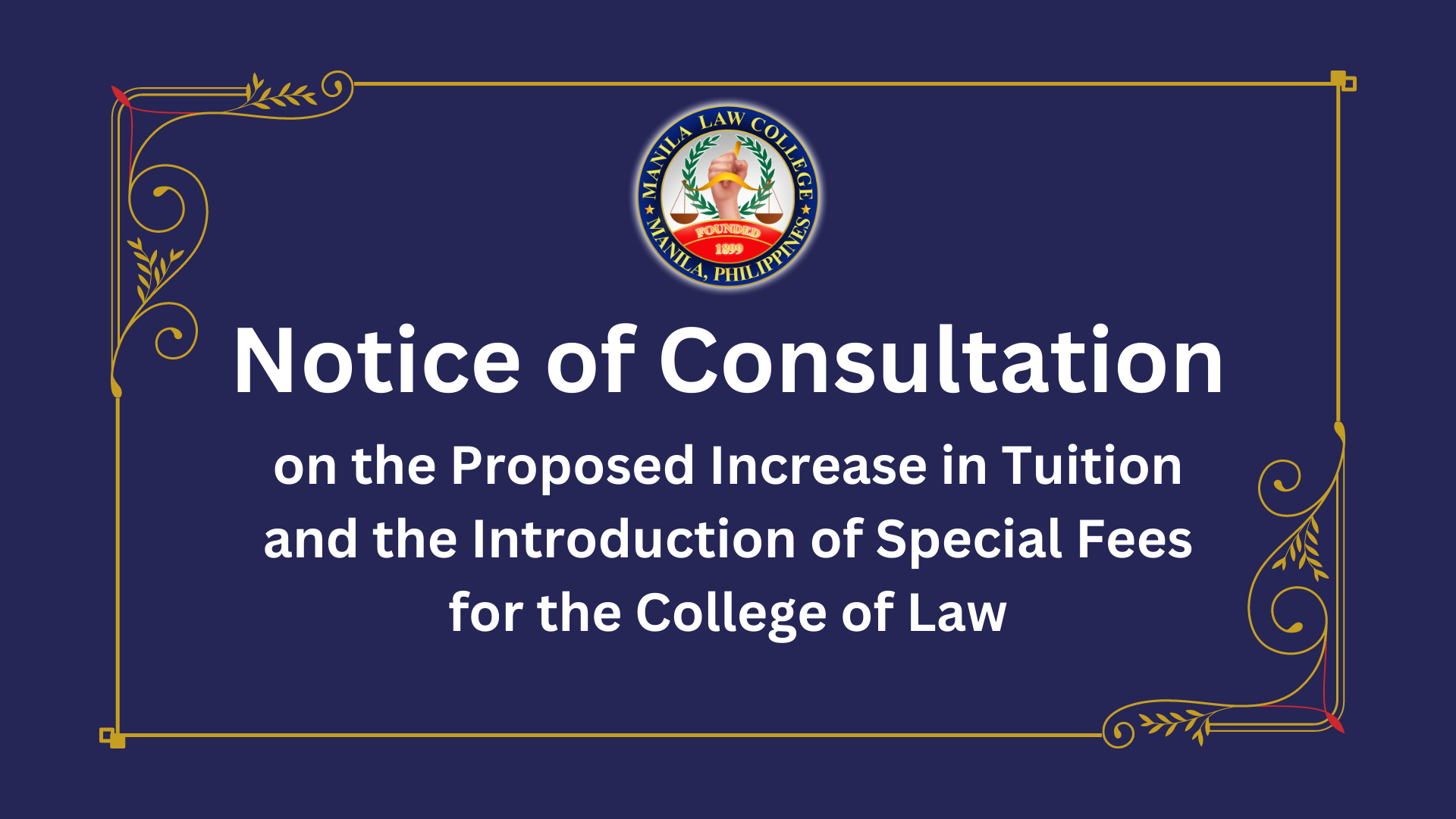 Notice of Consultation on the Proposed Increase in Tuition and the Introduction of Special Fees for the College of Law
February 28, 2023
To : MLC Faculty, Alumni, and Students
From : RODOLFO VALENTINO BAUTISTA
Thru : ATTY. SERGIO M. CENIZA
Dean, Manila Law College
Endorsed by : Dr. Maria Teresa Vibar
College Secretary and Registrar
<strong>RE: NOTICE OF CONSULTATION ON THE PROPOSED MODEST INCREASE IN TUITION AND THE INTRODUCTION OF SPECIAL FEES FOR THE COLLEGE OF LAW</strong>
Greetings!
With due consideration to the increase in inflation rates and costs to operate the School, the MLC Administration proposes a very modest increase in tuition and miscellaneous fees to support its expenses relative to the implementation of the School's Clinical Legal Aid Program (CLEP) and the Bar Review Enhancement Program. The proposed increase, if approved, would be implemented at the beginning of each semester, effective Academic Year 2023-2024. In compliance with the requirements of LEBMO. No. 8, s. 2016 on Policies, Guidelines, and Procedures Governing Increases in Tuition and Other Fees, I shall initiate and conduct a consultation through my authorized representative, Atty. Sergio M. Ceniza, Dean of Manila Law College.
To ensure the health and safety of everyone during this time of the pandemic, the General Assembly intended for consultation shall be conducted virtually via Zoom on Monday, April 10, 2023, from 8:00 am to 9:30 a.m.
May we all continue to inspire the MLC Academic community with our commitment to support the continuous improvement of our teaching and learning methods and abilities and the community and engagement programs and practices in the School.
Thank you very much.
Endorsed by:
(Sgd.)
Dr. Maria Teresa Vibar
College Secretary and Registrar
Approved by:
(Sgd.)
RODOLFO VALENTINO BAUTISTA
President & Chairman of the Board
Manila Law College
Authorized Representative
(Sgd.)
ATTY. SERGIO M. CENIZA
Dean, College of Law