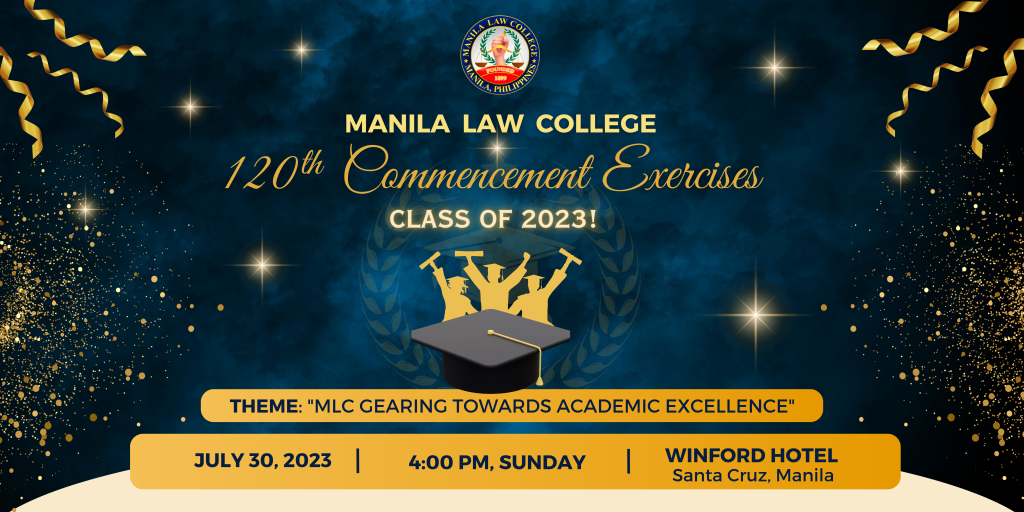 MLC celebrates its 120th Commencement Exercises
Manila Law College recently celebrated its 120th Commencement Exercises with COMELEC Chairman George Erwin Garcia as its guest speaker.
The event, which was held at Winford Hotel on July 30, 2023, was attended by the 59 graduates, their respective families and friends, as well as the members of the MLC faculty. Below are the names of  the MLC 2023 graduates  in alphabetical order.
Alcanar, Bernalyn Domingo
Almazan, Reine Jose  Talledo
Asilo, Christopher Ranque
Baranda, Angelica Louise  Laluan
Baybay, James, Jr. Laguicao
Bernal, Lailani Marie  Murillo
Bernardo, Jasmin Aranas
Cabalo, Chloe May  Conde
Calauor, Titus Edison  Moraleda
Calma, Nevicshky Pamintuan
Camartin, Mary Grace  Pacheco
Cañedo, Gretchen Alba
Carrido, Vincient Claro
Casanova, Zarahgen Sebolino
Castro, Ampy Carla  Idica
Cayaban, Charmaine Valientes
Coloma, Romeo Abijero, Jr. Cabel (Class Valedictorian)
Cordero, Maria Lourdes  Fabros
Dacumos, Anna Marie  Salazar
Dañez, Lawrence Alfred Cruz
Datangel, Orlando Arevalo
De Casco, Dexsie Julian
De Guzman, John  Kenneth  Olan
Dy, Janina Paule
Esgana, Gi-Ann Villaruel
Espina, Joseph Roco
Espinosa, Katrina Tania  Ramirez
Fandiño, Ella Mhey  Mendoza
Florentino, Paulo Bituin
Garcia, Christian Earl Urbano
Garcia, Roan Ramos
Gonzales, Mariella Joy  Mendoza
Guarte, Ma. Isabel  Macatangay
Larosa, Mayett Solidad
Lequiron, Lorenz Joseph  Bada
Liporada, Genesis Patrick  Banluta
Lumanlan, Jayson Singca
Macadangdang, Ryan Eclar
Maling, Zoraida Ryza Obana
Marinay, Abegail Supillo
Medina, Brian Jacob   De  Guzman
Mergal, Jason Oracion
Mitra,Laarni May  Italia
Nacario, Leo Sanny  Boy  Gulpric
Palencia, Krizza Sofia  Del  Barrio
Rivas, Edelyn Asesor
Rodriguez, Ron Angelo  Villamayor
Ruiz, Arlene Sepacio
Salangsang, Dandreb Christopher Santos
Salinas, Michael Soon
Salva, Kessel Dura
Sumayop, Michelle Rivero
Tabarangao, Juliane Paul  Galang
Tamondong, Rommel Dumaliang
Tan, Marinelle Eleuterio
Tuazon, Neil Galias
Tuquero, Marlon Viñalon
Villaceran, Marc Steven  Dela Cruz
Villena, Mark Nathaniel  Caliging
This year's valedictorian is Mr. Romeo Abijero Coloma, Jr. Below are some of the highlights of the event.